There are times in life when everything changes; when the path you are on presents an unexpected detour. Though challenging, such times are often useful and necessary. Trying periods force us to focus and reconsider our relationships, ambitions, beliefs and financial strategies with a "new normal" in mind. This is where a private equity company like IFSA can help.
In this article, we take a look at an IFSA intervention that helped transform Reymar Freight, a small privately owned services business, into a categorical success.
This is the story of how collaboration in times of unforeseen difficulty can be far more valuable than outright competition. Fanie and Gerrit Maritz share the journey of their company, the struggles and lessons learned along the way, and how working with IFSA Private Equity has made all the difference.
The Start and Rise of Reymar Freight
Fanie Maritz, the company's MD, is an entrepreneur who has founded and run multiple freight-based companies. In 1999, with the support of a close friend, Charles Reyneke, and his wife, Annalie Maritz, he merged two of these companies into a single offering: Reymar Freight. Together, they built Reymar Freight from the ground up, sculpting the business into a well-respected privately owned services firm.
The company was the first to offer an overnight road delivery service from Johannesburg to the Eastern Cape. Since then, they have established multiple new routes that offer a similar service.
Today, Fanie and Annalie's son, Gerrit, serves as the firm's operations director. Gerrit explains where the idea for the company came from: "It was an idea that my father figured out while in East London. He realised that SA Express was the only way to get anything overnight from Johannesburg to East London. SA Express had a monopoly – everything was on flights, and their service was excessively expensive."
"There was quite a big demand for vehicle parts, in particular, to be transported overnight to East London. Clients were paying an unreasonable amount for this service, which presented an opportunity for a road-freight service. Thanks to the help of one of my father's friends, Charles Reyneke, we started running a few Mercedez-Benz Sprinters up and down from Johannesburg into East London – and the rest is history. That's also where the name of the company comes from: Reyneke and Maritz, combined."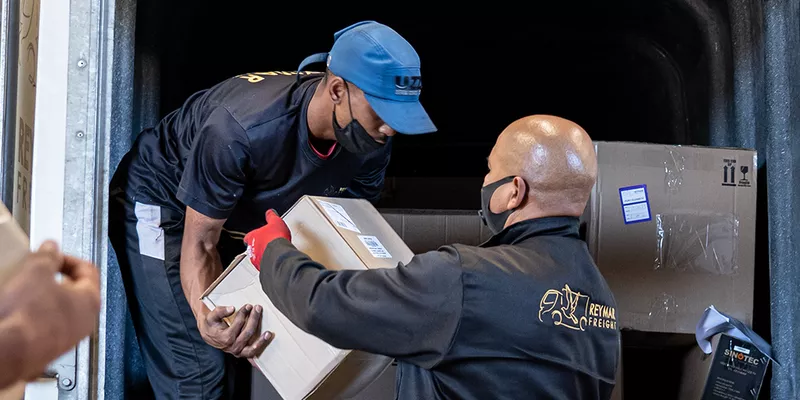 From Success to Financial Disaster
"In the first ten years, we grew very quickly," says Fanie. Within three years of trading, the company had opened branches in Port Elizabeth and Durban. In 2004, Charles Reyneke left South Africa and Fanie continued to run the fast-growing company on his own. He found support in a new partner, Paul Sutcliffe, who helped them open another branch in Cape Town.
Then, without warning, everything changed: "In 2008, when the recession came in, Reymar Freight was buckling under huge financial pressure," explains Fanie. Major challenges were gathering on the horizon. It was a case of the "perfect storm" as South Africa was dealing with recession on top of recession.
"Given the capital, I knew the company would grow. Reymar Freight had established itself as a reliable freight business, and all it needed was a capital push. In reality, many of Reymar's branches had to close its doors overnight."
When Reymar Freight grew and expanded, it did so without any external structure or financial support. Following the trying times that would come to pass, Fanie promised himself that he would never again grow without support. "The risks are too high, and any margin of failure could end up closing the business permanently."
Why Reymar Freight Chose to Work With IFSA Private Equity
IFSA's finance director, Gerdouw Steyn, had been a friend of the family for many years. Fanie reached out to him for an honest, open discussion and Gerdouw advised that the Reymar Freight team have a proper sit-down with IFSA's management team.
"We discussed the operational successes of Reymar over the years, how the company had grown, what immediate challenges were standing in the way of success. Though we were concerned about being micro-managed, IFSA trusted us, believing that we won't just go and throw it all away," explains Fanie.
How Reymar Freight Benefited From IFSA's Service
The trust-based relationship that formed with IFSA's managers opened doors for Reymar Freight in ways that nobody could have imagined. IFSA looked at the entire business, its people and the industry. Together, they started working on the company – not just in it.
"Scaling presents a big risk without the proper finance and structure. This is where IFSA can make the difference," explains Gerrit. "They helped us access both capital and human capital – funding, best practices, talent, networks, resources, support and so on. IFSA gave us the means to tackle challenges head-on."
"What we really enjoy about them is the corporate structure they've given us. IFSA gave us some backbone in how to push and manage the growth – and it's been going great since then."
Find Out How IFSA Can Help You
At IFSA, capital meets human capital. We believe that opportunities are plentiful and that there are many SMMEs (privately owned companies) looking for investment capital. However, it is important to note that we are not merely looking for any opportunity to invest in. We are actively seeking out "pockets of excellence".
Do you own a business that demonstrates historic performance excellence? Are you a private individual with funds that you are looking to invest in private equity? We commit fearlessly to building companies that maximise value for both our investors and entrepreneurial partners.
For more information on IFSA, investment opportunities, or to receive a custom benchmark analysis, get in touch with us. We will help you create a solution that is perfect for your unique requirements.
IFSA (Pty) Ltd Registration No. 2000/005153/07 An Authorised Financial Services Provider Licence No. 43337